Laboratory of
Evolutionary Biology
Department of Anatomy
College of Medicine
Howard University
Washington, DC
See Publications, 1973- (docx) | (pdf) | (htm)
---
The Laboratory of Evolutionary Biology, a research group active within the Department of Anatomy since 1973, presently comprises five faculty members who are vertebrate paleontologists, together with their graduate students. Their individual and joint research projects focus on the morphology, systematics, and evolution of Cenozoic mammals of both the Old and New Worlds.

One focal interest of several in our group is the evolution of mammals in aquatic environments, and we are fortunate to have among us active workers on all four major groups of living and extinct marine mammals: sirenians and desmostylians (Dr. Domning), cetaceans (Dr. Hussain), and pinnipeds (Dr. Koretsky). In addition, Drs. Armour-Chelu, Bernor, and Hussain study a variety of terrestrial mammal groups, with a particular focus on the evolution and paleobiological context of Old World Neogene mammals with integration of systematics, biogeography, taphonomy and paleoecology (Drs. Armour-Chelu and Bernor).

All members of the Laboratory are active in paleontological fieldwork. Since arriving at Howard, they have led or participated in field projects in the following countries: Austria, Croatia, England, Ethiopia, France, Germany, Hungary, India, Italy, Jamaica, Kazakhstan, Kenya, Libya, Mexico, Pakistan, Slovakia, Tanzania, Turkey, USA, and Venezuela. Their research in museum collections has taken them to many other countries besides, and all of our faculty are internationally recognized as specialists in their respective fields of study. Our graduate students have pursued thesis and dissertation projects on fossils from the eastern, western, and northwestern U.S., China, Ethiopia, Europe, and the former Soviet Union.

As Research Associates of the Smithsonian Institution's Department of Paleobiology, the faculty of the Laboratory work closely with Smithsonian personnel and collections on a variety of field and museum research projects.

Since its beginnings in 1973, the Laboratory's members and students have authored hundreds of scientific publications, making significant contributions to the knowledge of mammalian evolution.
Skull of "Eurygnathohippus" cf. baardi, a Mio-Pliocene horse from Langebaanweg, South Africa, studied by Dr. Bernor
(photo by R. L. Bernor; cf. Hooijer, 1976: pl. 1).
FACULTY AND RESEARCH INTERESTS
Dr. Miranda J. Armour-Chelu (taphonomy, zooarchaeology, paleoecology, African Neogene and extant faunas)
Dr. Raymond L. Bernor (fossil horses, pigs, and primates of Eurasia and Africa; Miocene terrestrial faunas and biochronology of the Old World; integration of systematics, functional anatomy and paleoecology)
Dr. Daryl P. Domning (living and fossil seacows – manatees, dugongs, and their relatives – throughout the world; desmostylians; paleoecology of marine plant communities and herbivorous marine mammals)
Dr. S. Taseer Hussain (fossil whales, horses, rodents, primates, and other mammals of South Asia; climate change and human health)
Dr. Irina A. Koretsky (fossil true seals of the Eurasian Paratethyan and North Atlantic regions; phylogeny, ecomorphology, and paleozoogeography of pinnipeds)
Dr. Armour-Chelu (left) and former Laboratory of Evolutionary Biology graduate student Shundong Bi (right) excavating Miocene mammals at Baltavar, Hungary, 2001.
(Photo by R. L. Bernor)
Dr. Armour-Chelu and Shundong Bi at Middle Miocene fossil locality of Lucane, Croatia, 2001.
(Photo by R. L. Bernor)
Dr. Bernor (right) and coworkers excavating Miocene mammals at Höwenegg, Germany, 2003.
(Photo courtesy of R. L. Bernor)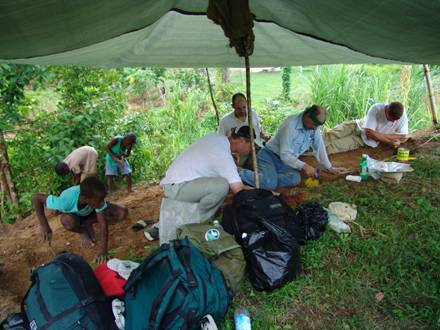 Dr. Domning (second from right) and coworkers excavating Eocene fossil sea cows in Jamaica, 2004.
(Photo courtesy of G. Hecht)
Dr. Domning collecting Miocene sea cow fossil at Cessaniti, Italy, 2004.
(Photo courtesy of G. Carone)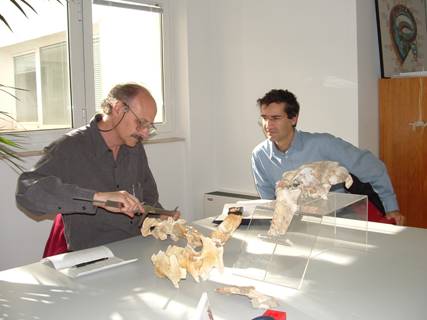 Dr. Domning (left) studying Miocene sea cow fossils at University of Calabria, Cosenza, Italy, 2004.
(Photo courtesy of G. Carone)